As much as I love the birthday wishes and gifts that come to me this time of year, I love the mini-library I purchase for myself each June 1st.
---
This year, that means the following:
Exciting Times by Naoise Dolan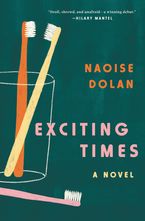 An intimate, bracingly intelligent debut novel about a millennial Irish expat who becomes entangled in a love triangle with a male banker and a female lawyer.
Ava, newly arrived in Hong Kong from Dublin, spends her days teaching English to rich children.
Julian is a banker. A banker who likes to spend money on Ava, to have sex and discuss fluctuating currencies with her. But when she asks whether he loves her, he cannot say more than "I like you a great deal."
Enter Edith. A Hong Kong-born lawyer, striking and ambitious, Edith takes Ave to the theater and leaves her tulips in the hallway. Ava wants to be her – and wants her.
And then Julian writes to tell Ava he is coming back to Hong Kong… Should Ava return to the easy compatibility of her life with Julian or take a leap into the unknown with Edith?
Politically alert, heartbreakingly raw, and dryly funny, Exciting Times is thrillingly attuned to the great freedoms and greater uncertainties of modern love. In stylish, uncluttered prose, Naoise Dolan dissects the personal and financial transactions that make up a life – and announces herself as a singular new voice.
DROPS: June 2, 2020
The Vanishing Half by Brit Bennett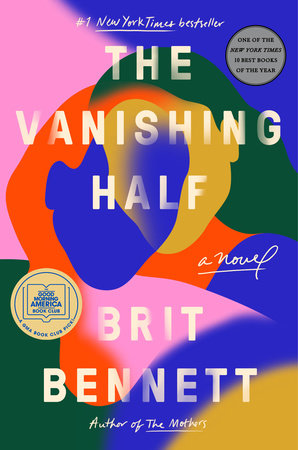 From The New York Times-bestselling author of The Mothers, a stunning new novel about twin sisters, inseparable as children, who ultimately choose to live in two very different worlds, one black and one white.
The Vignes twin sisters will always be identical. But after growing up together in a small, southern black community and running away at age sixteen, it's not just the shape of their daily lives that is different as adults, it's everything: their families, their communities, their racial identities. Many years later, one sister lives with her black daughter in the same southern town she once tried to escape. The other secretly passes for white, and her white husband knows nothing of her past. Still, even separated by so many miles and just as many lies, the fates of the twins remain intertwined. What will happen to the next generation, when their own daughters' storylines intersect?
Weaving together multiple strands and generations of this family, from the Deep South to California, from the 1950s to the 1990s, Brit Bennet produces a story that is at once a riveting, emotional family story and a brilliant exploration of the American history of passing. Looking well beyond issues of race, The Vanishing Half considers the lasting influence of the past as it shapes a person's decisions, desires, and expectations, and explores some of the multiple reasons and realms in which people sometimes feel pulled to live as something other than their origins.
As with her New York Times-bestselling debut The Mothers, Brit Bennett offers an engrossing page-turner about family and relationships that is immersive and provocative, compassionate and wise.
DROPPED: June 2, 2020
The Lying Life of Adults by Elena Ferrante
Two years before leaving home my father said to my mother that I was very ugly. The sentence was uttered under his breath, in the apartment that my parents, newly married, had bought in Rione Alto, at the top of Via San Giacomo dei Capri. Everything – the spaces of Naples, the blue light of a very cold February, those words – remained fixed. But I slipped away, and am still slipping away, within these lines that are intended to give me a story, while in fact I am nothing, nothing of my own, nothing that has really begun or really been brought to completion: only a tangled know, and nobody, not even the one who at this moment is writing, knows if it contains the right thread for a story or is merely a snarled confusion of suffering, without redemption.
DROPS: June 9, 2020
Broken People by Sam Lansky
A groundbreaking, incandescent debut novel about coming to grips with the past and ourselves, for fans of Sally Rooney, Hanya Yanagihara and Garth Greenwell.
This is what hooks Sam when he first overhears it at a fancy dinner party in the Hollywood hills: the story of a globe-trotting shaman who claims to perform "open-soul surgery" on emotionally damaged people. For neurotic, depressed Sam, new to Los Angeles after his life in New York imploded, the possibility of total transformation is utterly tantalizing. He's desperate for something to believe in, and the shaman – who promises ancient rituals, plant medicine and encounters with the divine – seems convincing, enough for Sam to sign up for a weekend under his care.
But are the great spirits the shaman says he's summoning real at all? Or are the ghosts in Sam's memory more powerful than any magic?
At turns tender and acid, funny and wise, Broken People is a journey into the nature of truth and fiction – a story of discovering hope amind cynicism, intimacy within chaos and peace in our own skin.
DROPS: June 9, 2020
Nothing Can Hurt You by Nicola Maye Goldberg
Inspired by a true story, this haunting debut novel pieces together a chorus of voices to explore the aftermath of a college student's death.
On a cold day in 1997, student in Sara Morgan was killed in the woods surrounding her liberal arts college in upstate New York. Her boyfriend, Blake Campbell, confessed, his plea of temporary insanity raising more questions than it answered.
In the wake of his acquittal, the case comes to haunt a strange and surprising network of community members, from the young woman who discovers Sara's body to the junior reporter who senses its connection to convicted local serial killer John Logan. Others are looking for retribution or explanation: Sara's half sister, stifled by her family's bereft silence about Blake, poses as a babysitter and seeks out her own form of justice, while the teenager Sara used to babysit starts writing to Logan in prison.
A propulsive, taut tale of voyeurism and obsession, Nothing Can Hurt You dares to examine gendered violence not as an anomaly, but as the very core of everyday life. Tracing the concentric circles of violence rippling out from Sara's murder, Nicola Maye Goldberg masterfully conducts an unforgettable chorus of disparate voices.
DROPS: June 23, 2020
Each year, I stock up on the true crime stories I've been dying to read – here's three of them I'm (hopefully) read for:
The Scientist and the Spy by Mara Hvistendahl
A riveting true story of industrial espionage in which a Chinese-born scientist is pursued by the US government for trying to steal trade secrets, by a finalist for the Pulitzer Prize in nonfiction.
In September 2011, sheriff's deputies in Iowa encountered three ethnic Chinese men near a field where a farmer was growing corn seed under contract with Monsanto. What began as a simple trespassing inquiry mushroomed into a two-year FBI operation in which investigators bugged the men's rental cards, used a warrant intended for foreign terrorists and spires, and flew surveillance planes over corn country – all in the name of protecting trade secrets of corporate giants Monsanto and DuPont Pioneer. In The Scientist and the Spy, Hvistendahl gives a gripping account of this unusually far-reaching investigation, which pitted a veteran FBI special agent against Florida resident Robert Mo, who after his academic career foundered took a questionable job with the Chinese agricultural company DBN – and became a pawn in a global rivalry.
Industrial espionage by Chinese companies lies beneath the United States' recent trade war with China, and it is one of the top counterintelligence targets of the FBI. But a decade of efforts to stem the problem have been largely ineffective. Through previously unreleased FBI files and her reporting from across the United States and China. Hvistendahl describes a long history of shoddy counterintelligence on China, much of it tinged with racism, and questions the role that corporate influence plays in trade secrets theft cases brought by the US government. The Scientist and the Spy is both an important exploration of the issues at stake and a compelling, involving read.
The Third Rainbow Girl by David Zucchino
In the afternoon or early evening of June 25, 1980, two young women, Vicki Durian and Nancy Santomero, were killed in an isolated clearing in rural Pocahontas County, West Virginia. They were hitchhiking to an outdoor peace festival known as the Rainbow Gathering, but never arrived. Their killings have been called "The Rainbow Murders."
For thirteen years, no one was prosecuted, though suspicion was cast on a succession of local men. In 1993, the state of West Virginia convicted a local farmer named Jacob Beard and sentenced him to life imprisonment. Later, it emerged that a convicted serial killer and diagnosed schizophrenic named Joseph Paul Franklin had also confessed. With the passage of time, as the truth behind the Rainbow killings seemed to slip away, its toll on this Appalachian community became more concrete – the unsolved murders were a trauma, experienced on a community scale.
Emma Copley Eisenberg spent five years re-investigating these brutal acts, which once captured the national media's imagination, only to fall into obscurity. A one-time New Yorker who came to live in Pocahontas County, Eisenberg shows how that crime, a mysterious act of violence against a pair of middle-class outsiders, came to loom over several generations of struggling Appalachians, many of them laborers who earned a living farming, hauling timber, cutting locust posts, or bailing hay – and the investigators and lawyers for whom the case became a white whale.
Part Serial-like investigation, part Joan Didion-like meditation, the book follows the threads of this crime through the history of West Virginia, the Back-to-the-Land movement, and the complex reality contemporary Appalachia, forming a searing portrait of America and its divisions of gender and class, and its violence.
The Journalist and the Murderer by Janey Malcolm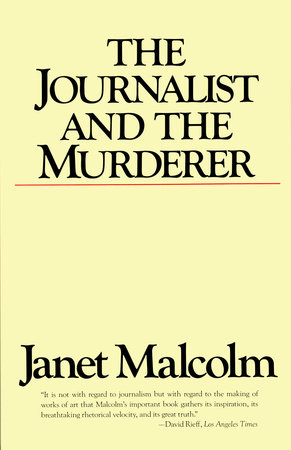 A seminal work and examination of the psychopathy of journalism. Using a strange and unprecedented lawsuit as her larger-than-life example – the lawsuit of Jeffrey MacDonald, a convicted murderer, against Joe McGinnis, the author of Fatal Vision, a book about the crime – she delves into the always uneasy, sometimes tragic relationship that exists between journalist and subject. In Malcolm's view, neither journalist nor subject can avoid the moral impasse that is built into the journalistic situation. When the text first appeared, as a two-part article in The New Yorker, its thesis seemed so radical and its irony so pitiless that journalists across the country reacted as if stung.
Her book is a work of journalism as well as an essay on journalism: it at once exemplifies and dissects its subject. In her interviews with the leading and subsidiary characters in the MacDonald-McGinniss case – the principals, their lawyers, the members of the jury, and the various persons who testified as expert witnesses at the trial – Malcolm is always aware of herself as a player in a game that, as she points out, she cannot lose. The journalist-subject encounter as always troubled journalists, but never before has it been looked at so unflinchingly and so ruefully. Hovering over the narrative – and always on the edge of the reader's consciousness – is the MacDonald murder case itself, which imparts to the book an atmosphere of anxiety and uncanniness. The Journalist and the Murderer derives from and reflects many of the dominant intellectual concerns of our time, and it will have a particular appeal for those who cherish the odd, the off-center, and the unsolved.
---
In Cold Blood by Truman Capote
On November 15, 1959, in the small town of Holcomb, Kansas, four members of the Clutter family were savagely murdered by blasts from a shogun held a few inches from their faces. There was no apparent motive for the crime, and there were almost no clues.
As Truman Capote reconstructs the murder and the investigation that led to the capture, trial, and execution of the killer, he generates both mesmerizing suspense and astonishing empathy. At the center of his study are the amoral young killers Perry Smith and Dick Hickock, who, vividly drawn by Capote, are shown to be reprehensible yet entirely and frighteningly human. In Cold Blood is a seminal work of modern prose, a remarkable synthesis of journalistic skill and powerfully evocative narrative.
Because, if I'm going to go on a true crime binge, I have to include this classic.
---
What are you excited for this month? Let me know in the comments, at hollyandoates@gmail.com, or on social media – always @hollyandoates !
---
Photo and synopsis of Exciting Times from harpercollins.com
Photo and synopsis of The Vanishing Half from penguinrandomhouse.com
Photo and synopsis of The Lying Life of Adults from goodreads.com [Synopsis is an excerpt from the book, originally published in November 2019]
Photo and synopsis of Broken People from samlansky.com
Photo and synopsis of Nothing Can Hurt You from Amazon
Photo and synopsis of The Scientist and the Spy from book.douban.com
Photo and synopsis of The Third Rainbow Girl from goodreads.com
Photo and synopsis of The Journalist and the Murderer from penguinrandomhouse.com
Photo and synopsis of In Cold Blood from goodreads.com