What better time to show yourself some love than right now? No matter where you are in life or how you're feeling, there's also a book that's ready to help you. Hopefully, you'll find one here!
For the first-timer:
Introducing Mindfulness: A Practical Guide by Tessa Watt
This book is a great place to start (or refresh) on mindfulness, especially considering how easy it is now-a-days to tune out. Watt's writing in clear and practical and doesn't leave the reader wondering who has the time for all this stuff.
Mindfulness is one of the oldest and most basic skills known to mankind. In its essence, it's as simple as rediscovering the taste of fresh water or the vastness of the sky. It is learning, or re-learning, how to be present, how to be in this amount.
Being mindful can also help us to be less swept away by out powerful, habitual currents of thought and emotion, which can manifest as stress, depression, negative thinking, anxiety, anger, resentment or self-doubt. We can train ourselves in mindfulness, just as we exercise to keep our bodies healthy.
For the overwhelmed:
Carry on, Warrior: Thoughts on Life Unarmed by Glennon Doyle Melton
Doyle's makes life seem easier by embracing its complex obstacles. She's at once a humorous confidante and old-man-on-the-mountain-type of sage. In Carry On, Warrior Doyle encourages readers to reimagine their relationships and put a little more kindness back into their life.
In Carry On, Warrior, Glennon Doyle Melton shares new stories and the best-loved material from Momastery.com. She recounts her mistakes and triumphs with candor and humor, and gives language to our universal (yet often secret) experiences. She believes that by shedding our armor, we can stop hiding, competing, striving for the mirage of perfection, and making motherhood, marriage, and friendship harder by pretending they're not hard. In this one woman trying to love herself and others, readers find a wise and witty friend who will inspire them to forgive their own imperfections, make the most of their gifts, and commit to small acts of love that will change the world.
For those the news have made depressed: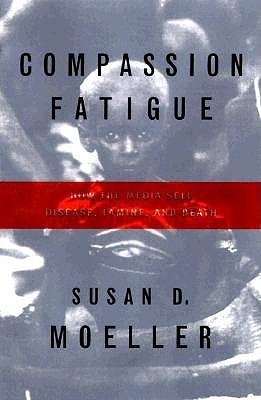 Compassion Fatigue: How the Media Sell Disease, Famine, War, and Death by Susan D. Moeller
It's not a seamless read like some of the others here but Moeller's got a point. Regardless of your personal views or political affiliation, the media is often a dark and depressing place. Compassion Fatigue will help you figure out when enough is enough – and how much information you really need.
In her impassioned book, Compassion Fatigue, Moeller warns that the American media threatens our ability to understand the world around us. Why do the media cover the world in the way that they do? Are they simply following the marketplace demand for tabloid-style international news? Or are they creating an audience that has seen too much – or too little – to care?
For the hands-on type:
How to Be Happy (Or At Least Less Sad) by Lee Crutchley
Interactive books aren't much my thing but maybe they're yours! Crutchley uses illustrations to reinforce how you can find happiness again – in the little things. Like crossing your favorite book with a coloring page, there's always good in reassessing our perspectives.
Through a series of supportive, surprising, and engaging prompts, How to Be Happy (Or At Least Less Sad) helps readers see things in a new light, and rediscover simple pleasures and everyday joy… or at least feel a little less sad. By turns a workbook, trusted friend, creative outlet, security blanket, and secret diary, the pages of this book will offer solace, distraction, engagement, a fresh perspective, and hopeful new beginnings – for readers of all ages and walks of life.
For the jaded:
F*ck Love by Michael Bennett, MD and Sarah Bennett
F*ck Love helped me a lot after a pretty rough breakup so I had to include it here. You can read the review I gave here. Suffice to say, there's a lot of amazing and practical advice for approaching relationships without the preachy quality that a lot of "we found love" stories have.
Many people have opinions on the subject of romantic relationships – why they're so hard to find, so difficult to maintain, so easily analogized to planets and pets – but the real source of trouble isn't too complicated: it's that we are choosing our partners based on love, excitement, list, attraction, neediness… on feelings.
For those in need of a new perspective:
Start Where You Are: A Guide to Compassionate Living by Pema Chödrön
Unless you're familiar with Shambhala or Buddhism, the lessons Chödrön gives will be a fresh turn on old adages. There wasn't anything that shocked me to an "aha" moment but I did come away with a different perspective on ideas I'd always thought were true.
Start Where You Are is an indesipensable handbook for cultivating fearlessness and awakening a compassionate heart. With insight and humor, Pema Chödrön presents down-to-earth guidance on how we can "start where we are" – embracing rather than denying the painful aspects of our lives. Peme Chödrön frames her teachings on compassion around fifty-nine traditional Tibet Buddhist maxims,or slogans, such as: "Always apply only a joyful state of mind," "Don't seek others' pain as the limbs of your own happiness," and "Always meditate on whatever provokes resentment."
For those who need to purge:
The Life-Changing Magic of Tidying Up: The Japanese Art of Decluttering and Organizing by Marie Kondō
Look we can protest band-wagon attempts to improve our lives but Marie Kondō's method has genuinely helped a lot of people. The difference is that the people who will get the most benefit out of these types of trends are the ones who took it as a lifestyle and not an impulsive grasp for contentment.
With detailed guidance for determining which items in your house "spark joy" (and which don't), this international best seller featuring Tokyo's newest lifestyle phenomenon will help you clear your clutter and enjoy the unique magic of a tidy home – and the calm, motivated mindset it can inspire.
---
Featured image retrieved from comomag.com ("Treat Yo' Self: Self Care in the Workplace":)
Photo and synopsis of Introducing Mindfulness, Carry On, Warrior, F*ck Love, and The Life-Changing Magic of Tidying Up retrieved from goodreads.com
Photo and synopsis of Compassion Fatigue retrieved from Google Books
Photo and synopsis of How to Be Happy and Start Where You Are retrieved from Amazon