A much anticipated month is here! For the hopes that our little planet will be showcasing all its beauty and I won't feel like a hermit anymore and, of course, new books.
---
This month, that means the following:
All Adults Here by Emma Straub
A warm, funny, and keenly perceptive novel about the life cycle of one family — as the kids become parents, grandchildren become teenagers, and a matriarch confronts the legacy of her mistakes. From the New York Times bestselling author of Modern Lovers and The Vacationers.
When Astris Strick witnesses a school bus accident in the center of town, it jostles loose a repressed memory from her young parenting days decades earlier. Suddenly, Astrid realizes she was not quite the parent she thought she'd been to her three, now-grown children. But to what consequence?
Astrid's youngest son is drifting and unfocused, making parenting mistakes of his own. Her daughter is pregnant yet struggling to give up her own adolescence. And her eldest seems to measure his adult life according to standards no one else shares. But who gets to decide, so many years later, which long-ago lapses were the ones that mattered? Who decides which apologies really count? It might be that only Astrid's thirteen-year-old granddaughter and her new friend really understand the courage it takes to tell the truth to the people you love the most.
In All Adults Here, Emma Straub's unique alchemy of wisdom, humor, and insight come together in a deeply satisfying story about adult siblings, aging parents, high school boyfriends, middle school mean girls, the lifelong effects of birth order, and all the other things that follow us into adulthood, whether we like them to or not.
DROPS: May 5, 2020
Breasts and Eggs by Mieko Kawakami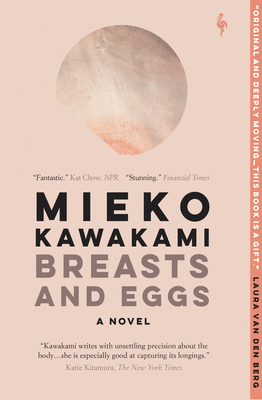 Challenging every preconception about storytelling and prose style, mixing wry humor and riveting emotional depth, Kawakami is today one of Japan's most important and best-selling writers. She exploded onto the cultural scene first as a musician, then as a poet and popular blogger, and is now an award-winning novelist.
Breasts and Eggs paints a portrait of contemporary womanhood in Japan and recounts the intimate journeys of three women as they confront oppressive mores and their own uncertainties on the road to finding peace and futures they can truly call their own.
It tells the story of three women: the thrty-year-old Natsu, her older sister, Makiko, and Makiko's daughter, Midoriko. Makiko has traveled to Tokyo in search of an affordable breast enhancement procedure. She is accompanied by Midoriko, who has recently grown silent, finding herself unable to voice the vague yet overwhelming pressures associated with growing up. Her silence proves a catalyst for each woman to confront her fears and frustrations.
On another hot summer's day ten years later, Natsu, on a journey back to her native city, struggles with her own indeterminate identity as she confronts anxieties about growing old alone and childless.
Kawakami's first novella My Ego, My Teeth, and the World, published in Japan in 2007, was awarded the Tsubouchi Shoyo Prize for Young Emerging Writers. The following year, she published Breasts and Eggs as a short novella, and won praise from Yoko Ogawa and Haruki Murakami. The newly expanded Breasts and Eggs is her first novel to be published in English.
DROPPED: April 7, 2020 — last month, I know, but I just learned about it and had to include it!
Latitudes of Longing by Shubhangi Swarup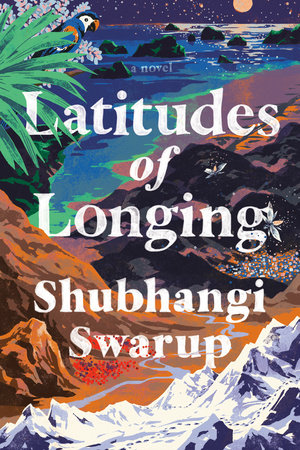 A sweeping, lyrical debut about the love and longing between humanity and the earth itself, by a major new literary talent from India.
A spellbinding work of literature, Latitudes of Longing follows the interconnected lives of characters searching for true intimacy. The novel sweeps across India, from an island, to a valley, a city, and a snow desert, to tell a love story of epic proportions. We follow a scientist who studies trees and a clairvoyant who speaks to them; a geologist working to end futile wars over a glacier; octogenarian lovers; a mother struggling to free her revolutionary son; a yeti who seeks human companionship; a turtle who transforms first into a boat and then a woman; and the ghost of an evaporated ocean as restless as the continents. Binding them all together is a vision of life as vast as the universe itself.
A young writer awarded on of the most prestigious prizes in India for this novel, Shubhangi Swarup is a storyteller of extraordinary talent and insight. Richly imaginative and wryly perceptive, Latitudes of Longing offers a soaring view of humanity: our beauty and ugliness, our capacity to harm and love one another, and our mysterious and sacred relationship with nature.
DROPS: May 5, 2020
My Mother's House by Francesca Momplaisir
A literary thriller about the complex underbelly of the immigrant American dream and the dangerous ripple effect on person's damages can have on the lives of others-told unexpectedly by a house that has held unspeakable horrors.
When Lucien flees Haiti with his wife, Marie-Ange, and their three children to New York City's South Ozone Park, he does so hoping for reinvention, wealth, and comfort. He buys a rundown house in a community that is quickly changing from an Italian enclave of mobsters to a haven for Haitian immigrants, and begins life anew. Lucien and Marie-Ange call their home La Kay — "my mother's house" — and it becomes a place where their fellow immigrants can find peace, a good meal, and legal help. But as a severely emotionally damaged man emigrating from a country whose evils he knows to one whose evils he doesn't, Lucien soon falls into his worst habits and impulses, with La Kay as the backdrop for his lasciviousness. What he can't even begin to fathom is that the house is watching, passing judgment, and deciding to put an end to all the sins it has been made to hold. But only after it has set itself aflame will frightened whispers reveal Lucien's ultimate evil.
At once an uncompromising look at the immigrant experience and an electrifying page-turner, My Mother's House is a singular, unforgettable achievement.
DROPS: May 12, 2020
The Ballad of Songbirds and Snakes by Suzanne Collins
The Ballad of Songbirds and Snakes will revisit the world of Panem sixty-four years before the events of The Hunger Games, starting on the morning of the reaping of the Tenth Hunger Games.
You can read an excerpt of chapter 1 on songbirdsandsnakes.com, the description of this is here:
It is the day of the reaping for the tenth annual Hunger Games. In this scene, we see eighteen-year-old Coriolanus Snow head to his school, the Capitol's elite Academy, in order to see how he'll be involved in the Games.
DROPS: May 19, 2020
---
One Hundred Years of Solitude by Gabriel García Márquez
The brilliant, bestselling, landmark novel that tells the story of the Buendia familly, and chronicles the irreconcilable conflict between the desire for solitude and the need for love – in rich, imaginative prose that has come to define an entire genre known as "magical realism."
I'm especially challenging myself with this one by reading it in the original Spanish. While I can understand most conversation and can speak my own slang-ridden, no-rolled-r's version, I've never tried to read Spanish literature but there's a first for everything!
---
What are you excited for this month? Let me know in the comments, at hollyandoates@gmail.com, or on social media – always @hollyandoates !
---
Photo of All Adults Here from penguinrandomhouse.com
Synopsis of All Adults Here from emilystraub.com
Photo and synopsis of Breasts and Eggs from indiebound.org
Photo and synopsis of Latitudes of Longing from penguinrandomhouse.com
Photo of My Mother's House from medium.com
Synopsis of My Mother's House from francescamomplaisir.com
Photo of The Ballad of Songbirds and Snakes from barnesandnoble.com
Synopsis of The Ballad of Songbirds and Snakes from barnesandnoble.com and songbirdsandsnakes.com
Photo and synopsis of One Hundred Years of Solitude from goodreads.com