I honestly never thought my introverted soul could feel so stir crazy. Fortunately, I'm not without company – both literal and in the form of bound pages – and have more that will be here soon and an unworldly number of under e-books that I've been hoarding.
[ — ]
This month, that means the following:
Afterlife by Julia Alvarez
The first adult novel in almost fifteen years by the internationally bestselling author of In the Time of the Butterflies and How the Garcia Girls Lost Their Accents.
Antonia Vega, the immigrant writer at the center of Afterlife, has had the rug pulled out from under her. She has just retired from the college where she taught English when her beloved husband, Sam, suddenly dies. And then more jolts: her bighearted but unstable sister disappears, and Antonia returns home one evening to find a pregnant, undocumented teenager on her doorstep. Antonia has always sought direction in the literature she loves – lines from her favorite authors play in her head like a soundtrack – but now she finds that the world demands more of her than words.
Afterlife is a compact, nimble, and sharply droll novel. Set in this political moment of tribalism and distrust, it asks: What do we owe those in crisis in our families, including – maybe especially – members of our human family? How do we live in a broken world without losing faith in one another or ourselves? And how do we stay true to those glorious souls we have lost?
DROPS: April 7, 2020
God Shot by Chelsea Bieker
Drought has settled on the town of Peaches, California. The area of the Central Valley where fourteen-year-old Lacey May and her alcoholic mother live was once an agricultural paradise. Now it's an environmental disaster, a place of cracked earth and barren raisin farms. In their desperation, residents have turned to a cult leader named Pastor Vern for guidance. He promises, through secret "assignments," to bring the rain everybody is praying for.
Lacey has no reason to doubt the pastor. But then her life explodes in a single unimaginable act of abandonment: her mother, exiled from the community for her sins, leaves Lacey and runs off with a man she barely knows. Abandoned and distraught, Lacey May moves in with her widowed grandma, Cherry, who is more concerned with her taxidermy mice collection than her own granddaughter. As Lacey May endures the increasingly appalling acts of men who want to write all the rules, and begins to uncover the full extent of Pastor Vern's shocking plan to bring fertility back to the land, she decides she must go on a quest to find her mother, no matter what it takes. With her only guidance coming from the romance novels she reads and the unlikely companionship of the women who knew her mother, she must find her own way through unthinkable circumstances.
Possessed of an unstoppable plot and a brilliantly soulful voice, Godshot is a book of grit and humor and hear, a debut novel about female friendship and resilience, mother-loss and motherhood, and seeking salvation in unexpected places. It introduces a writer who gives Flannery O'Coonor's Gothic parables a Californian twist and who emerges with a miracle that is all her own.
DROPS: April 7, 2020
The Beauty of Your Face by Sahar Mustafah
Afaf Rahman, the principal of suburban Chicago's Nurrideen School for Girls, takes a few minutes alone for prayers, until gunshots shatter her peace. Palestinian American Sahar Mustafah's first novel opens with the terror of a school shooter and concludes with Afaf's eventual return to her office, forever altered yet resiliently unbroken by the horrors she survives.
In between, Mustafah interweaves major milestones in Afaf's life through four decades, as a 10-year-old in 1976 whose family implodes when her sister disappears, her transformation in 1985 from a troubled promiscuous teen to a devout Muslin, her 1993 decision to wear the hijab, the cleaving of her family, and the threat of being Muslin American after 9/11. Afaf perseveres despite het alcoholic father, damaged mother, and abusive peers until her adult faith inspires her to find inner strength and forgiving acceptance.
DROPS: April 7, 2020
Death in Her Hands by Ottessa Moshfegh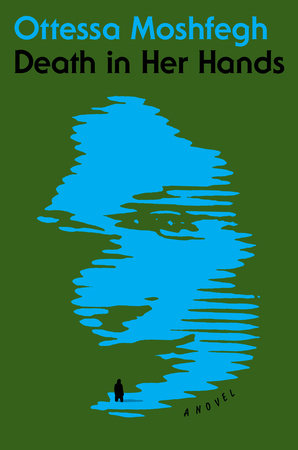 While on her daily walk with her dog in a secluded woods, a woman comes across a note, handwritten and carefully pinned to the ground by stones. "Her name was Magda. Nobody will ever know who killed her. It wasn't me. Here is her dead body." But there is no dead body. Our narrator is deeply shaken; she has no idea what to make of this. She is new to this area, alone after the death of her husband, and she knows no one.
Becoming obsessed with solving this mystery, our narrator imagines who Magda was and how she met her fate. With very little to go on, she invents a list of murder suspects and possible motives for the crime. Oddly, her suppositions begin to find correspondences in the real world, and with mountain excitement and dread, the fog of mystery starts to fade into menacing certainty. As her investigation widens, strange dissonances accrue, perhaps associated with the darkness in her own past; we must face the prospect that there is either an innocent explanation for all this or a much more sinister one.
A triumphant blend of horror, suspense, and pitch-black comedy, Death in Her Hands asks us to consider how the stories we tell ourselves both reflect the truth and keep us blind to it. Once again, we are in the hands of a narrator whose unreliability is well earned, and the stakes have never been higher.
DROPS: April 21, 2020
All Boys Aren't Blue by George M Johnson
In a series of personal essays, a prominent journalist and LGBTQIA+ activist George M. Johnson explores his childhood, adolescence, and college years in New Jersey from and Virginia. From the memories of getting his teeth kicked out by bullies as age five, to flea marketing with his loving grandmother, to his first sexual relationships, this young-adult memoir weaves together the trials and triumphs faced by Black queer boys. Both a primer for teens eager to be allies as well as a reassuring testimony for
DROPS: April 28, 2020
---
Demons by Fyodor Dostoevsky
Inspired by the true story of a political murder that horrified Russians in 1869, Fyodor Dostoevsky conceived of Demons as a "novel-pamphlet" in which he would say everything about the plague of materialist ideology that he saw infecting his native land. What emerged was a prophetic and ferociously funny masterpiece of ideology and murder in pre-revolutionary Russia.
This one is a behemoth but there's a slightly greater chance I will finish it before the month is over but I am dedicated to getting started on it!
---
What will you be doing to occupy your time during the rest of self-isolation? Let me know in the comments, at hollyandoates@gmail.com, or on social media – always @hollyandoates !
---
Photo and synopsis of Afterlife from juliaalvarez.com
Photo and synopsis of God Shot from books.catapult.co
Photo and synopsis of The Beauty of Your Face from smithsonianapa.org
Photo and synopsis of Death in Her Hands from penguinrandomhouse.com
Photo and synopsis of All Boys Aren't Blue from iamgmjohnson.com
Photo and synopsis of Demons from goodreads.com